Are you looking for the best testimonial plugins for your WordPress website?
Testimonials and reviews are a great way to add social proof to your website and help build trust among your users.
In this article, we have hand-picked the best testimonial plugins for WordPress that you can use on your website.
Why Use a Testimonial Plugin for WordPress?
Using a testimonial plugin lets you easily add customer or client testimonials, reviews, or feedback to your WordPress website. This adds social proof to your site and helps you win new customers and boost sales.
You could add testimonials by manually copying them into your posts or pages. However, a testimonials plugin lets you display them attractively in a slider, carousel, grid, and other beautiful layouts.
Depending on the plugin you choose, you can show testimonials with photos, a short blurb, reviewer's name, title, business, or star ratings.
That being said, let's take a look at some of the best WordPress testimonial plugins that you can try.
1. Facebook Social Reviews Feed – Smash Balloon
Facebook Social Reviews Feed from Smash Balloon lets you display reviews from your Facebook Page on your site. This is a fantastic option if you already have some great reviews on Facebook. It means you don't have to copy and paste any text or seek out fresh testimonials.
Facebook reviews boost user trust as they come from real Facebook profiles that can be looked up.
Custom Facebook Feed Pro itself is the most popular Facebook feed plugin out there and works with any WordPress theme. It makes it really easy to add a Facebook page feed to WordPress and boost engagement on your social profiles.
With the Reviews extension, you can display Facebook reviews as testimonials by entering the shortcode in any post or page, or even in a sidebar or footer widget. You can also display them anywhere on your landing pages or individual product pages.
Note: You will need to purchase the Custom Facebook Feed Pro plugin by Smash Balloon in order to use the Reviews extension.
2. Custom Twitter Review Feed – Smash Balloon
Custom Twitter Review Feed from Smash Balloon is a great option for displaying Twitter testimonials on your site.
Like Facebook reviews, testimonials that are shared through tweets are a great way to show feedback from real individuals.
It's easy to narrow your Twitter feed down to only show testimonials. You can do this by using hashtags or an advanced search to only display testimonials about you or your company.
The Custom Twitter Feeds Pro plugin has lots of other great features as well. For instance, you might create a curated list of Twitter accounts then display this as a feed on your website.
Plus, you can even automatically moderate tweets so that tweets containing specified words are hidden.
3. WPForms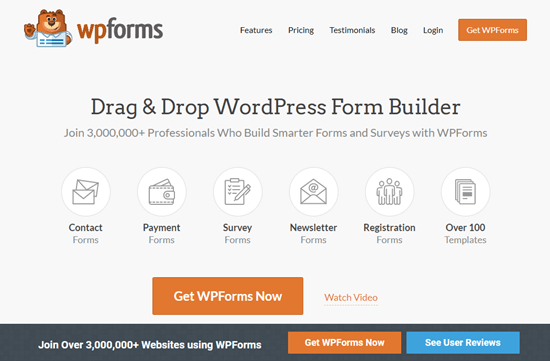 WPForms is the best WordPress form plugin in the market used by over 3 million users. It can be used to collect customer testimonials too. This helps you get all your testimonials in one place and one format.
WPForms' special Form Templates Pack addon includes a Testimonial Form Template. This lets you get started quickly. You can modify the form and any form fields that you may need.
With WPForms, you could even add a file upload option to your testimonial form. This lets customers upload files, such as photos of themselves with your product or even a short video clip.
You can also use WPForms to run a survey with beautiful reports. You could use this to show data about how your customers use your products, what they like best, and how satisfied they are.
4. Site Reviews

Site Reviews lets visitors submit reviews with a 1 to 5 star rating. With this plugin, you can pin your best reviews or testimonials so that they show up first.
It's also possible to moderate new review submissions, approving them before they go live on your site. This helps you protect against unfairly bad reviews. Alternatively, you can require users to be logged into your site in order to leave a review.
Site Reviews lets you easily respond to reviews, display a summary, and more. The developers provide active support through the WordPress.org support forum for the plugin.
5. Easy Testimonials
Easy Testimonials lets you enter testimonials from your WordPress admin area.
You can include a star rating, the person's role, and the product or service they used, as well as the testimonial itself. If you enter their email address, Easy Testimonials will automatically use their Gravatar image if they have one.
The pro version of Easy Testimonials also allows you to add a customer feedback form on your website.
Easy Testimonials includes 5 blocks for the WordPress block editor (Gutenberg editor). You can also display testimonials using a simple shortcode.
For detailed instructions, see our guide on how to add a customer reviews page in WordPress.
6. Testimonials Widget

Testimonials Widget is another flexible WordPress testimonials plugin. Despite the name, it allows you to add testimonials anywhere on your website, not just in widgets.
It comes with a sidebar widget allowing you to easily display testimonials in sidebars. Testimonials are displayed in a carousel with beautiful slide-in and fade effects.
7. Strong Testimonials

Strong Testimonials is one of the most customizable WordPress testimonial plugins. It comes with multiple display options. These include a testimonial slider, grid layout, masonry layout, single column layout, and more.
It also includes a form that allows your customers to easily add their reviews and testimonials. If you have been getting customer reviews on social media, then the pro version of this plugin can also embed reviews from Facebook, Google My Business, Yelp, and more.
8. Testimonial Basics
Testimonial Basics is a complete testimonial management solution for your WordPress website. It includes multiple display styles, a sidebar widget, and a feedback form to collect user testimonials.
If a user submits a testimonial, this plugin will use Gravatar to fetch their photo. However, you can also manually upload photos directly from your WordPress admin area.
9. WP Testimonials with Rotator Widget

WP Testimonials with Rotator Widget is a simple yet highly customizable testimonials plugin. It allows you to easily add testimonials and sort them into categories and tags.
After creating testimonials, you can display them using a shortcode. This shortcode comes with several parameters that let you customize the appearance of testimonials. The plugin also includes a widget with the same options as the shortcode.
10. BNE Testimonials

BNE Testimonials is another easy to use option for adding testimonials to your WordPress site. It comes with a shortcode and a sidebar widget to easily display testimonials.
It has a slider and plain list layout for testimonials, which inherits your theme's style for display.
11. Testimonial

Testimonial Builder is a straightforward WordPress testimonials plugin. It has simple options and the ability to choose your own colors.
It has draggable box items and allows you to choose different fonts, font-sizes, text color, and featured photo. The plugin does not have a slider or rotator, so testimonials will be displayed in a grid or list style.
12. Testimonial Slider

Testimonial Slider offers a modern WordPress testimonial slider with an improved user experience. It comes with a slider as well as the option for a plain list layout. You can also add a front-end contact form to collect customer testimonials.
You can add testimonials anywhere using the shortcode or sidebar widget. The testimonial slider is touch / mobile friendly and works well at all screen sizes.
Bonus Tools to Add Social Proof Beyond Testimonials
Testimonials show that users find your products/services good. However, you need to maximize social proof with other tools as well.
The following are a couple of tools that you can use to create the FOMO effect with social proof.
13. TrustPulse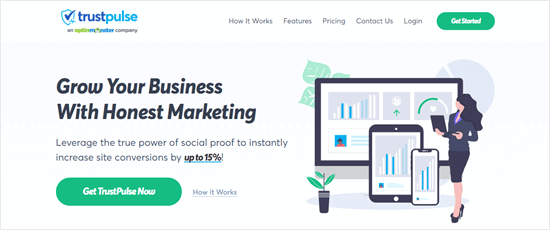 TrustPulse is a powerful social proof plugin for WordPress. It helps you boost conversions by showing real-time notifications of activity on your website.
For instance, TrustPulse can show notifications about sales, downloads, forms submitted, and more. It's a powerful way to use the fear of FOMO to encourage potential customers to buy.
The TrustPulse notifications aren't intrusive, but they are still highly effective. They can boost conversions up to 15% straight out of the box. You can customize the style, colors, text, image, and more for the notifications.
14. OptinMonster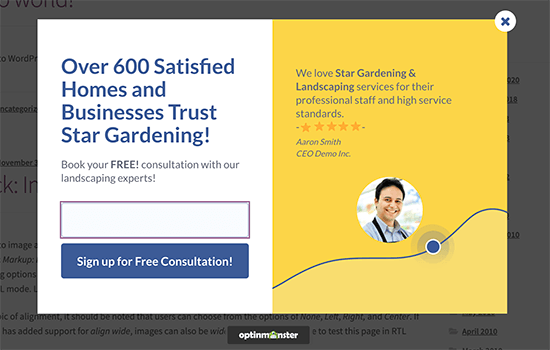 OptinMonster is the best conversion optimization tool on the market. It allows you to easily convert website visitors into paying customers.
It comes with beautiful popups, slide-in menus, countdown timers, floating headers, and other tools. All of them can be used to display social proof and customer testimonials.
It has powerful targeting features that allow you to show the right message at right time. For instance, you can show users a popup when they are about to leave.
It works with all top email marketing services, WordPress form plugins, and WooCommerce. This helps you boost your conversions several folds.
We hope this article helped you find the best testimonial plugin for your WordPress website. You may also want to see our complete list of must have WordPress plugins for business websites, and our proven tips to increase blog traffic.
If you liked this article, then please subscribe to our YouTube Channel for WordPress video tutorials. You can also find us on Twitter and Facebook.