Create An Ecommerce Website
How to Create an Ecommerce Website in 5 Easy Steps
A STEP-BY-STEP GUIDE TO CREATING YOUR ECOMMERCE WEBSITE
Want the quick answer? The best way to create an ecommerce website is with Wix. Keep reading to learn how.  
Whether you have a brick and mortar business and want to expand online or you're interested in starting a new business from scratch, ecommerce can be a highly profitable venture.
But before you can start thinking about your profit margins and selling products online, you need to create an ecommerce website.
For those of you who have never done this before, it can seem like a daunting task. But it's not as difficult as you think. Regardless of your experience level and technical knowledge, I'll teach you how to get your ecommerce site up and running in no time.
The Best Platform For Your Ecommerce Site
Before you can create your ecommerce site, you need to figure out what platform you're going to use.
There are dozens of options on the market today, but Wix is the clear winner.
In fact, we ranked Wix first on our list of the best ecommerce website builders.
It's the best ecommerce website builder due to one thing: Simplicity.
You don't need to learn how to code or have any technical expertise. The platform makes it easy for anyone to create a beautiful and highly functional ecommerce site from scratch in no time at all.
Wix is a top choice for beginners. It's a drag-and-drop site builder that's fully customizable and SEO-friendly.
What's drag-and-drop? It's a type of builder that allows you to simply use your mouse to drag different website elements around — changing them to your specific needs.
The platform has everything you need to start selling online. In addition to the site builder features, you'll be able to accept commission-free payments, manage end-to-end fulfillment, and set custom shipping rules worldwide.
Wix supports dropshipping and multi-channel sales. It allows you to sell on other platforms like Facebook and Instagram.
If you want the ability to fully customize your storefront, shopping cart, product galleries, and more without writing a single line of code, choose Wix. You'll even be able to set up features like a customer wish list, related product galleries, mini-cart, quick add-to-cart buttons, and more.
You can add coupons, promo codes, and even let your customers create accounts to increase loyalty and speed up the checkout process with saved billing and shipping details.
The price for ecommerce capabilities starts at $23 per month. It comes with bonus features like $300 in advertising vouchers and a free domain for one year.
As your site grows, you can easily upgrade your plan to scale with you.
How to Build an Ecommerce Site: A Step-by-Step Guide
Step 1: Sign up and choose your plan
Step 2: Decide how you want to create your website
Step 3: Connect your domain
Step 4: Set up your ecommerce site
Step 5: Publish your ecommerce site
Follow these steps with any ecommerce site builder. But for this article, we'll use Wix as an example.
Step #1: Sign up and choose your plan
The first thing you need to do is create an account with Wix. Compared to other platforms, the sign-up process is about as easy as it gets—10 seconds max. You'll only need to provide an email address and password to continue.
You can start using Wix for free right away. But the free plan doesn't give you any ecommerce capabilities. It's basically an extended trial to play around with the site builder.
Navigate to the premium subscriptions and make sure to select "Business & Ecommerce," as I've highlighted in the screenshot below.
The "Website" plans don't all have online selling capabilities, which you'll obviously need for your ecommerce site.
All of the ecommerce plans come with the ability to accept online payments, a free SSL certificate, increased storage, unlimited bandwidth, and a free domain for one year.
Choose a plan based on the size of your website and business. If you're a small company selling a handful of products, you'll be fine with the Basic Business or Business Unlimited plans. Bigger websites with additional needs should go with the Business VIP plan or potentially the Enterprise solution.
Wix offers a 14-day money-back guarantee. So you can always opt-out or switch plans within two weeks if you're not satisfied with your choice.
Step #2: Decide how you want to create your site
Once you sign up, there are two different ways to get started. You can use the Wix ADI or the Wix Editor to continue.
With the ADI, you'll answer a series of questions about your ecommerce site, and the platform will automatically design it in minutes using artificial intelligence. With the editor, you'll start with a template and make it on your own.
There's no right or wrong way here. It all depends on your personal preference. Even if you use the ADI, you'll still be able to make changes using the editor later on.
For beginners, leveraging AI to build your ecommerce site based on the answers to you provide will likely be the best option. It's faster, and you'll have a working site to edit instead of just starting from scratch with a template.
But the editor is easy straightforward too. It will just be a bit more time-consuming.
If you use the ADI, you'll be asked to choose the type of ecommerce site you're building (like an online clothing store, jewelry store, etc.), and pick your features (like an Instagram feed, live chat, subscribe form, etc.).
For those of you who already have an online presence, the AI tool can import content from your existing website or Google Places.
Next, you'll be asked to pick a theme and select a template.
I went through this entire process in less than two minutes, and the platform automatically created an ecommerce site for me. Then it's just as simple as editing the template with your own content, images, and anything else you want to customize.
Step #3: Connect your domain
Now connect your domain before you publish the ecommerce site.
Navigate to the "Settings" menu on the left side of your dashboard and click on "Domains."
You'll find two options here: Buy a new domain name or connect a domain name you already own.
Pro tip: Need a domain? Find one of the best domain registrars. Once purchased, you can simply follow the steps to connect a domain that you own. Check out our guide on how to buy a domain name if this is your first time going through this process.
Getting a domain from a domain registrar is typically the best course of action. But if you want to keep it simple and go directly through your ecommerce platform, that's fine too.
Step #4: Set up your ecommerce site
After the domain has been connected, you need to set up the ecommerce functionality of your site. These are the components that will actually allow you to sell products online.
Add products
Set up shipping regions
Select payment methods
I'll give you a quick overview of each one of these ecommerce site elements below.
Products
To add a product, navigate to the "Store Products" section of your dashboard on the left side of the screen. Then click "+ New Product" on the top right corner of the screen.
From here, you'll be able to name the product, add it to a collection, set the price, and write your product description. You can add product images and videos as well.
Wix lets you add a product ribbon (such as "new arrival), mark the product as "on sale," create a section for things like a return policy or care instructions, and manage the tax settings.
You'll also be able to control the product size options, color choices, and inventory tracking.
Shipping
Next, you'll have to manage your shipping rules. Determine what regions you're shipping to and how those rates are calculated.
For the example site I've been creating in this tutorial, I set up free shipping in the US and set a flat rate for international orders.
Maybe you only want to sell to customers in the US and Canada. Just uncheck the international toggle box on the right side of the screen, and add a new region for Canada.
You'll have lots of flexibility with the shipping rates. For example, you could offer free shipping to customers that spend a certain amount of money per order.
In addition to a flat rate, you can charge shipping by weight, based on order total, or USPS calculated rates. You can even manage handling rates and give your customers the option to pick up orders in-store for certain regions.
Payment Methods
Before you can get paid, you need to set up your accepted payment methods. This is very easy to do with Wix's integrated payment processing system.
For this example, I selected the integrated processor as well as PayPal.
This gives you the ability to accept all major credit cards like Visa, American Express, Discover, Mastercard, UnionPay, JCB, and Maestro.
Processing rates are 2.9% + $0.30 per transaction, which is pretty standard in this space. Wix doesn't take any commission on top of that.
Step #5: Publish your ecommerce site
Now it's time for the big moment: Publishing your site.
In order to do this, you MUST have a connected domain (explained in step #3).
You also must be on a paid Wix plan. Technically, you could publish your site while on a free plan, but it won't be with your custom URL. You won't have any of the ecommerce capabilities either without a paid plan. So if you haven't done so already, make sure you go ahead and finalize your subscription before proceeding.
Click on the publish button in the top right corner of your editor for the site to go live.
By the way, the preview of the site you're seeing on the screen was 100% generated by the AI solution we discussed earlier. I didn't adjust the layout, add images, or customize anything yet.
It just goes to show you how easy it is to create an ecommerce site if you go that route.
Best Practices For Creating an Ecommerce Site
The five steps explained above will get your ecommerce site up and running in no time. It's simple, and anyone can do it.
But that alone won't make your site successful. Here are some best practices to keep in mind while you're building out the site and going through this process.
Keep it Simple
Your theme, homepage, product pages, and interior pages should be simple.
Don't try to clutter your homepage with every product that you're selling. Just highlight 3-6 of your most popular products. You can even take your all-time best seller and include a giant photo of it with a CTA above the fold.
The simplicity and layout ensure that your website visitors are immediately exposed to your most popular offerings, which increases the chances that they make a purchase.
Contact Page
Like the rest of your ecommerce site, the contact page should be simple.
It should include your phone number, address, email address, and a contact form so people can reach out. Make sure that the contact form goes to an email account that's actively monitored. This way, you can respond to customer inquiries as fast as possible.
About Us Page
The About Us page should not just be a boring history about when your company was founded and what you're selling.
This is your chance to tell a compelling story that inspires customers to join your mission. Maybe you donate 10% of all sales to save the planet. Or maybe you're a Certified B corporation that only sources inventory from sustainable vendors.
Your About Us page should be authentic, and written as clearly as possible. It should speak to your target audience and resonate with them as well.
Product Names
Rule of thumb: Unless you have lots of experience in naming products, you should stick to names that are clear without trying to get too creative.
Too many ecommerce websites get too cute with their product names. This results in confusion and eye rolls from the customers.
A simple and boring name for a great product will still generate tons of sales. But the wrong name could destroy it.
Product Descriptions
Every product on your ecommerce site should have a unique product description. This is essentially a one or two paragraph pitch for your products.
Here's the standard structure that I'd recommend for a product description:
One or two sentences identifying the problem that the product solves.
One or two sentences painting a picture of what life will be like once problem is solved.
Two or three sentences describing how your product solves those problems and what features make this possible.
With that said, not every product solves problems. Clothing and apparel is a perfect example. If you're selling a trendy t-shirt, consumers are buying it to make them feel confident, refine their identity, and change their look. In this case, the description should be less about the product itself and more about how the item makes the buyer feel.
Product Photos
I know it sounds lame—but a picture really is worth 1,000 words. You can't rely on descriptions alone to sell your products.
Hire a professional photographer to shoot your products. Capture the products from every angle. Show it in action. If you're selling a shirt, take photos of a person wearing that shirt, as opposed to just laying it flat on a table. If you're selling hiking boots, show someone wearing them on a hiking trail. If you're selling bed sheets, take a photo of the sheets on an actual bed.
As I briefly mentioned in the step-by-step guide, you can also add videos to products. This is perfect for products that require any type of demonstration that can't be shown in photos alone.
Conclusion
Creating an ecommerce site isn't that complicated. You could realistically get one up and running in ten minutes.
While it will obviously take you longer than that to add your products, write product descriptions, upload images, and everything else that goes into having a highly successful ecommerce website, the actual building process is quick.
Using an ecommerce website builder, you can create an online store in just five easy steps.
Follow the step-by-step instructions that I've outlined in this guide. You don't need to know how to code or have any technical experience to get through this process.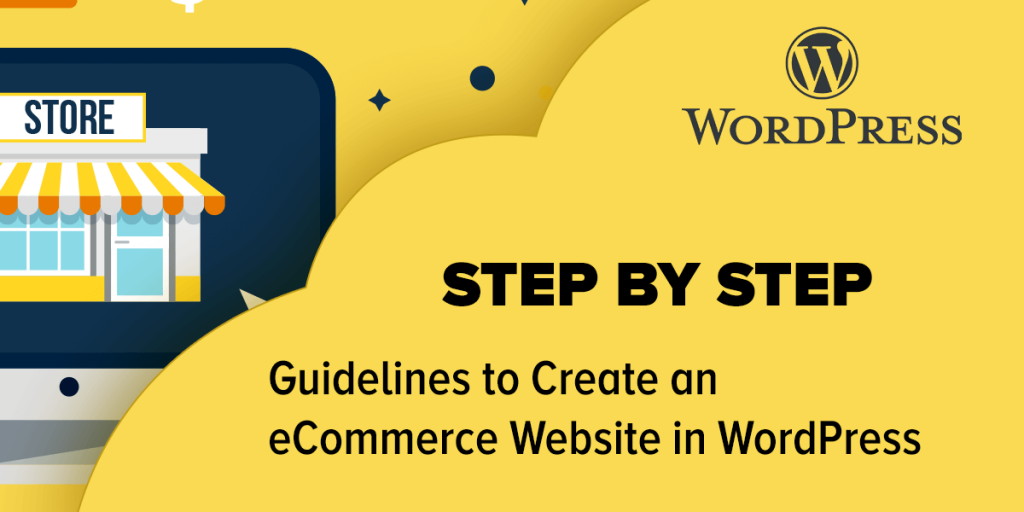 The WordPress stage initially started as an approach to blog on the web. Throughout the years, it has advanced into "Content Management System"
Step by Step Guidelines to Create an eCommerce Website in WordPress
The WordPress stage initially started as an approach to blog on the web. Throughout the years, it has advanced into "Content Management System" – at the end of the day, a backend programming that can "Power" any kind of site – including an e-commerce site. All things considered, WordPress as an e-commerce platform is certifiably not a solid match for everybody.
Running an online store is an incredible method to sell your items to a vast group of customers. Be that as it may, it can likewise be very much time consuming when you think about the time you spend on fulfilling orders, monitoring your stock, and showcasing your store. So, in that case, WordPress possesses all the necessary qualities that it enables you to make any kind of site and it's quite simple to use even for the beginners also.
WordPress likewise has a large number of themes accessible for any specialty, which is the reason it's the essential choice for some eCommerce owners.
In this post, we'll discuss how to assemble an eCommerce site with WordPress. You'll find how to pick the correct theme. Additionally, we'll demonstrate to you proper methodologies to effortlessly get your online hideaway and running. This guide covers precisely how to set up a WordPress e-commerce business.
Getting started: Register a domain, get hosting service
A domain is your web address is all you need first. A hosting is needed to run your site and store every data that is content, pictures, and video. Each site needs hosting, so ensure you get hosting else you would not be able to build your website.
Now here is the step wise guide to do that.
Go to Hosting Provider> Click Get Started Now > Opt for a Plan > Click on Sign up now
You can search online for hosting provider companies, compare their features, prices and support and choose the one which suits you best.
Start typing in a domain you need to enlist and press enter to check whether it is available or not. In the event that you find out that the domain name is available – start moving onto the following steps. If in case the domain is not available, try using it with different names.
Draw up your new account email from Hosting.
Tap on the connection that says "Your Control Panel"
Sign in with the username and password from your email
And you are done!
Get Started with Installing WordPress
Presently we have to install the platform we will use to make it. This platform is known as WordPress – it's a content management framework and super known with a large community of clients.
So now that you're signed in to your cPanel, scroll down to the Software/Services section of the main page.
Tap on the icon that says "Quick Install"
Tap on WordPress on the left side menu
Click the Continue button.
Enter an administrator email, site title, username and other necessary details.
Press "Install now!"
Now, we have WordPress installed! So you can now go to your domain address and see a website is just uploaded to your site.
Now sign in into your WordPress account.
Install a WordPress theme
WordPress has no limitations and a shortage of high-quality themes for different subjects and specialties. While the free themes are quite nice, but they regularly need support from theme creators and aren't refreshed as frequently as the paid themes or premium themes. Staying up with the latest up to date theme is significant on the off chance that you need to guarantee your site gives the best client experience.
So now it's an ideal opportunity to install the theme.
Go to the WordPress site page that is www.yoursite.com/wp-admin, enter your username and password and there comes your Dashboard.
On the left side, get to the Appearance link – drift over it and click "Themes".
At the top, you will find a button saying "Add New" – click on that.
At that point click the button saying "Upload Theme".
Tap the button that says "Choose File" right in the middle
Go to the folder wherever your theme is saved and pick that document and click upload and "Install Now".
You'll find yourself on another page to another page – click "Activate".
Fortunately, there are a couple of commercial centres that enable you to download an unlimited number of WordPress themes for a yearly subscription and that though very affordable. That implies you can change the theme on an ongoing basis whenever you like. Once you got a theme you like, just buy it and download the ZIP file to your PC. You can likewise discover a lot of themes for WooCommerce that are frequently refreshed and give you access to a half year of free help from the creator on Theme Forest.
If you want to design your custom theme for your online store then you will need to consult WordPress website development company who will create custom design and integrate it into your WordPress.
Install the Plugins that are required
So now we have to install the popular eCommerce plugin that supports all the web stores. The theme has a lot of pre-packaged plugins so we can install them all at the same time.
When the theme is activated, there you will find a notification in the dashboard with a message that some plugins are required for the theme to function. So here are the steps to install plugins.
Move to your dashboard > plugins.
Check the box overall plugins so it chooses everything.
When it says "Bulk Actions" tap that drops down and clicks Install.
Tap on Apply.
Now when you are done with everything, click on the ACTIVATE button and then click APPLY.
Time to install WooCommerce pages
Now when you are done with everything, the last step is to introduce WooCommerce to empower eCommerce functionality on your website. So what we need to do now is to click a button so that we have our Default pages like Shop, Cart, and Checkout
Move to your Dashboard.
On the left site move over Appearance,> Click on Themes.
Now you will see a banner that says "Install WooCommerce Pages" and click on that.
Go to Pages on the left side and click on "All Pages"
And in the event that you can see pages like Cart, My Account, Checkout… you're ready!
So the major part of WordPress is completed and it's time to add your own elements which include:
Saving and uploading images and content: You might need to set up your product pictures and description so all you must do is copy and paste them. This will speed up your process.
Add your logo, icons, layout, header, footer, fonts, style, color, categories and a lot more elements of your choice that you will probably need.
Congrats!
You're Done! Beginning an online store is an energizing and practical plan of action. Since you know how to assemble an eCommerce site with WordPress and topics made particularly in light of WooCommerce, you can run your online store now.