Are you looking for the best PDF plugins for WordPress but don't know where to get started?
By default, WordPress cannot generate or embed PDF files in posts or pages. This is where a PDF plugin comes in handy. You can create, edit, and embed documents with ease using a plugin.
In this article, we will show you the best PDF plugins for WordPress that you can use on your website.
Why Do You Need a PDF Plugin for WordPress?
WordPress does not support PDF embedding, or downloading blog posts as PDF by default.
If you have a PDF document and try to embed it in WordPress, then it will show your file as a downloadable link. This way if someone clicks on the link, they will leave your website.
A WordPress PDF plugin allows you to display your documents on your WordPress site. Your website visitors can then view them in a PDF viewer while staying on your site.
A PDF plugin also helps your users to download any blog post or page as a PDF document. It ensures that the page is neatly formatted, so people can save it or print it with ease.
With that said, let's look at the best PDF plugins for WordPress.
1. EmbedPress
EmbedPress is a complete plugin that allows you to add and display PDF files in your WordPress posts and pages. It's easy to use and you can upload your PDF documents through the media library and place them anywhere on your site.
EmbedPress also lets you upload other types of media to your WordPress website. You can use it to add videos from YouTube, Vimeo, or Twitch.
Besides that, EmbedPress lets you upload Google Maps, docs, forms, sheets, Facebook posts, audio files, and much more.
2. E2Pdf
E2Pdf is a clean and simple WordPress PDF plugin that lets you create, edit, and display PDF documents to your visitors.
You can show static or dynamic PDF files to your audience. It lets you create and edit PDF documents and forms without having to leave your WordPress site.
The plugin also lets you auto-generate PDF forms based on your WordPress posts, pages, or web forms.
3. WPForms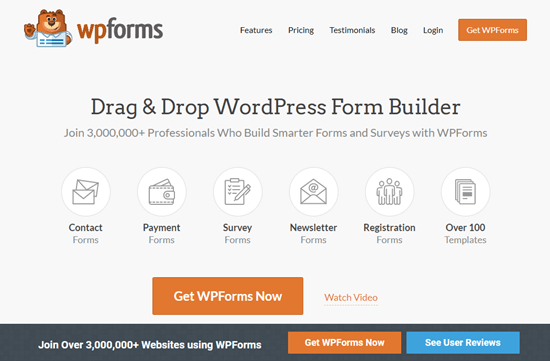 WPForms is the most beginner-friendly WordPress contact form plugin used by over 3 million website owners. With WPForms, you can allow users to submit PDF files to your website through a file upload form.
This way you don't have to give access to your website's backend to others in order to collect PDF files.
If you want to share your contact form submissions with someone else, then WPForms lets you download them as a PDF document as well.
You can check out our guide on how to create a file upload form in WordPress.
4. PDF & Print by BestWebSoft
PDF & Print by BestWebSoft, as the name suggests, this plugin adds a PDF download and print button to your WordPress posts, pages, and custom post types.
You can add your website title, featured image, custom styles, and fonts. The plugin can also execute shortcodes when generating PDFs or creating a printer friendly version.
5. WooCommerce PDF Invoices & Packing Slips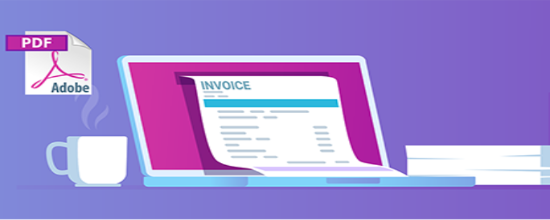 WooCommerce PDF Invoices and Packing Slips is a PDF plugin for WordPress that allows you to generate, download, and send PDF invoices with order confirmation emails on your WooCommerce store.
You get basic templates with the ability to customize them according to your business needs. The plugin also helps you handle your packing slips and invoices from your WooCommerce admin area.
You can follow our step by step guide on how to start an online store to get started.
6. PDF Poster
PDF Poster is another user-friendly WordPress plugin to embed PDF files on your website.
Using a shortcode, you can add PDF documents in your WordPress posts, pages, widget area, and theme files. Plus, you can add a download button, so people easily get hold of your PDF file.
And when you embed a file, it removes the black viewer frame, so visitors get a clean experience.
7. PDF.js Viewer
PDF.js Viewer lets you show PDF files inside your WordPress posts and pages through a simple shortcode or Gutenberg block.
It uses Mozilla's PDF.js to display PDF documents in a browser. Users get all the functionality such as scrolling through the document, search, print and download PDF files.
Besides that, the plugin lets you password protect your PDF documents, setup advanced zoom settings, show a loading bar, and display partially loaded PDF documents.
8. PDF Embedder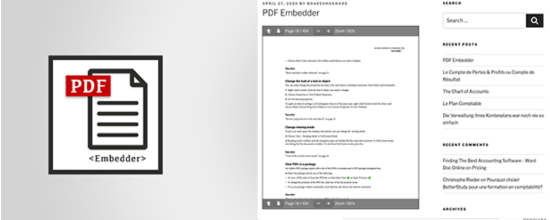 PDF Embedder is a WordPress plugin that allows you to embed PDF files in WordPress posts and pages.
The plugin uses JavaScript to embed files with a fully functional toolbar allowing users to zoom, navigate, and even download the PDF file. This makes the plugin different from others on our list.
Javascript allows you to have more flexibility on how your PDF documents will appear. The plugin also automatically adjusts the size of your PDF files. You can also enter the width manually and the plugin will automatically calculate the height.
9. MonsterInsights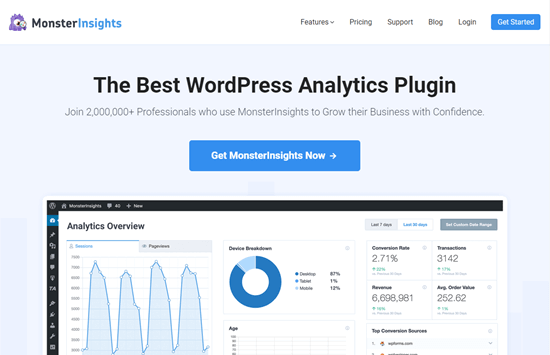 MonsterInsights is the best WordPress analytics plugin used by over 2 million website owners. It helps you see how people find and use your website.
It comes with a built-in download tracking feature that helps you monitor how many PDF downloads you get from your WordPress site.
Aside from download tracking, it also lets you see how many people are clicking on specific PDF files, links, buttons, or any other element on your site. You also get to see other important items such as real-time analytics, top referral sources, page level analytics, custom dimensions, and more.
The PDF tracking feature is also available in MonsterInsights Lite, which is the free version of the plugin.
Bonus WordPress PDF Plugins
These plugins do not offer a way to generate or embed PDF files. However, if you serve PDF files on your WordPress site, then you may find them helpful.
10. SearchWP
SearchWP is a paid WordPress plugin. It allows you to add a better search experience to your WordPress site.
One of the features of this plugin is the ability to search the text inside PDF files. However, it cannot search PDF files that are encrypted, stored outside the media library, or have images as text. See our guide on how to improve WordPress search with SearchWP
11. OptinMonster
OptinMonster is the best lead generation and conversion optimization plugin for WordPress.
It is a powerful tool that helps you grow your email list. You can convert abandoning visitors into subscribers by using OptinMonster. You can ask users to signup for your email list in exchange for free download PDF resources.
You can also use it to offer content upgrades. See this list of content upgrade ideas to 10X your subscribers.
Which is The Best PDF Plugin for WordPress?
The best WordPress PDF plugin really depends on your needs. If you are looking for a plugin to embed PDF documents and other media files with ease, then we recommend EmbedPress.
If you want to allow users to submit PDF files to your website, then WPForms is the best plugin.
As for creating and editing PDF documents right inside WordPress, then we recommend E2Pdf.
If you want visitors to subscribe in exchange for PDF downloads, then use OptinMonster, and lastly for tracking all PDF analytics, we recommend MonsterInsights.
We hope this article helped you find the best PDF plugins for WordPress. You may also want to see our list of the best WordPress page builder plugins, and our comparison of the best email marketing services.
If you liked this article, then please subscribe to our YouTube Channel for WordPress video tutorials. You can also find us on Twitter and Facebook.